Made in Latvia
Unique design handmade, 100% ecological product

Fast delivery
Delivery within 2-3 business days because we use our commercial transport

Warranty
If we receive a complaint from the customer, we will change the goods to the new within 2-3 business days.
It is not possible to compare the warmth, smell and coziness of a tree with any other material. Perhaps just because the tree has come from the nature we have all around, people have been fond of wood furniture for so many years. It is difficult to imagine the interior and the interior of the house without beautiful and quality wooden furniture. It seems that in the wooden bed has more beautiful dreams, the meal at the wooden table tastes better, talks on the wooden bench are better, but the most interesting sand castes are in the wooden sandbox. And what else can give us such pleasant and warm feelings as wooden furniture made in Latvia!
Our
Product style
Our style is suitable for people who love the warmth and coziness of a tree.
We pay special attention:

Material – preserving the appearance and natural qualities of live wood;

Appearance – clarity and simplicity of forms;

Convenience – functionality and practicality;

Treatment – wood colors and protective properties.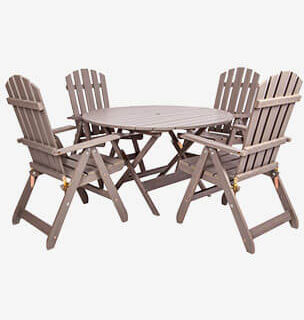 Our
Wood protection
We guarantee a longer lifetime of furniture, because we carry out additional wood processing.
Coverage – Remmers Lazura, a coating that preserves the appearance and natural qualities of wood.
Protection against blue stain, rot, mold, moss, insects, ground. There is a UV filter, water repellent, breathable, round.
Effect – Wood obtained a silky matt surface impression, sees the wood structure.
Classic tones – White / Brown / Graphite.
Izmantojiet iespēju un pērciet mūsu Latvijā ražotās masīvkoka mēbeles par īpaši izdevīgām cenām!
High quality wooden furniture from the manufacturer
Just a few months ago we brought this wood home from forest. Even then it had a special scent and naturaly beauty. We have been working hards for you to enjy this beautiful furniture in your own houses and garden. It's the real deal – made from scratch for your comfort.